Concrete floor repair and seal products in Cypress Texas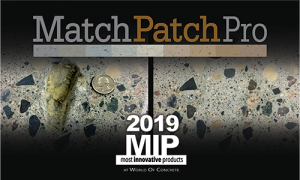 Natural concrete flooring continues in popularity as the environmentally friendly and aesthetically pleasing choice in the world today. Concrete flooring is easy to maintain, has a pleasing appearance and is for the life of the dwelling.  
At placement, concrete is not the perfect product with many variables determining the perceived outcome. Imperfections as cracks, holes and spalls can plague even newly placed concrete slabs. Construction remodels on older buildings where the concrete slab will be utilized for flooring are guaranteed a fair amount of the imperfections.
Very few repair products can meet this standard. Even fewer can offer a matching repair that also meets this standard. Match Patch Pro meets and exceeds the set industry standard. Our dedicated goal, is to do our part to help improve and expand the architectural concrete floor industry, through the needed and user friendly matching repair systems we produce.
Join other successful Cypress, Texas contractors that trust Match Patch Pro for their concrete seal and repair needs. Call 1-877-743-9732 to speak with a MPP product pro for more information about any of our products.

Don't leave before checking out our reviews to see why Cypress, Texas area contractors choose to purchase from Match Patch Pro.
[serviceareareviewcombo city="Cypress" state="TX" checkincount="10" reviewcount="10" zoomlevel="9"]